The "first Black President" according to Toni Morrison
The "first Black President" according to Toni Morrison
- - - - - - - - - -
Rush Hudson Limbaugh III ridicules Caucasian Bill Clinton regularly as being the first Black President. Wikipedia has explained that author Toni Morrison originated the pejorative assertion that Democrat Bill Clinton is culturally black. Her insightful comments had negative connotations. She disparaged and belittled William Jefferson Clinton.
- - - - - - - - - -
Toni Morrison (born Chloe Anthony Wofford on February 18, 1931) is a Nobel Prize-winning American author, editor, and professor. Her novels are known for their epic themes, vivid dialogue, and richly detailed African American characters. Among the best known are her novels are The Bluest Eye, Song of Solomon, and Beloved, which won the Pulitzer Prize for Fiction in 1988. In 2001 she was named one of "The 30 Most Powerful Women in America" by Ladies' Home Journal.
Politics
Morrison caused a stir when she called Bill Clinton "the first Black President" saying that "Clinton displays almost every trope of blackness: single-parent household, born poor, working-class, saxophone-playing, McDonald's-and-junk-food-loving boy from Arkansas." This opinion was adopted by Clinton supporters like the Congressional Black Caucus (CBC) and ridiculed by critics.
- - - - - - - - - -
http://en.wikipedia.org/wiki/Tony_Morrison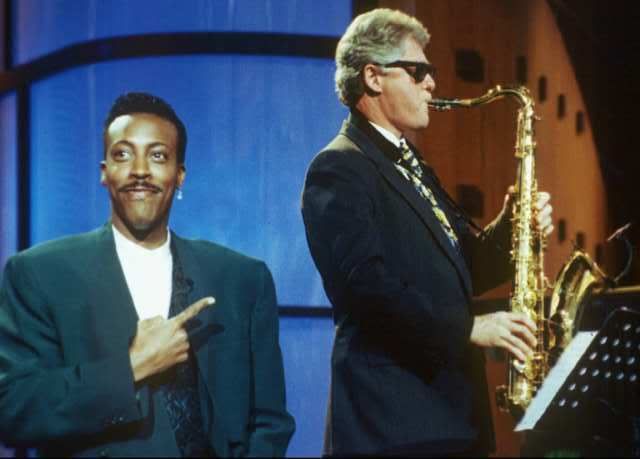 - - - - - - - - - -
Labels: Arsenio, Bill, Clinton, Hall, Morrison, saxophone, Toni